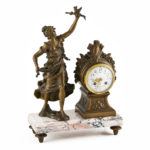 Repair
We service and repair all kinds of clocks including Grandfather's, French, German and Austrian clocks as well as regulators, brackets and ship-bell clocks. And of course the whole array of American clocks like Kitchen, Calendar, Wall clocks, Tambour, Parlor, Wall and Mantle to name a few.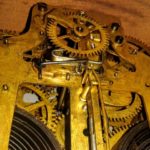 Undo Damages
We have extensive experience with repairing damage done to antique and not so antique clocks by tinkerers. Many self-professed clock repairmen are great fans of spraying their heirloom movement with WD-40 in a desperate attempt to make it work, instead of disassembling the movement for cleaning and proper servicing. Unfortunately WD-40 can not only damage the surface of the brass, it redistributes an amalgam of old oils, metal particles and dirt.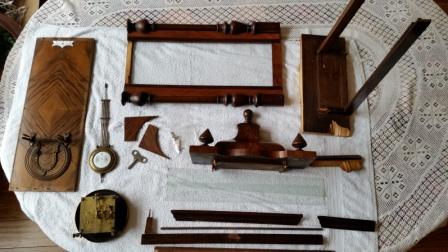 Case work
As part of our service routine, we clean and polish the clock case.  Scratches and blemishes are removed or colored to blend with the original look.  Dry wood cases are treated with furniture oil to bring back the original shine and patina and to preserve the wood.
We also repair and restore damaged cases.  The clock pictured above fell off a wall and broke into a myriad of pieces. The picture shows a sample of the larger pieces.  Since this case is a work in progress, we cannot yet show the finished product.
It is not uncommon for us to replace broken glass, wood or ornaments on Grandfather clocks that have had a mishap, like having been knocked over or dropped by movers.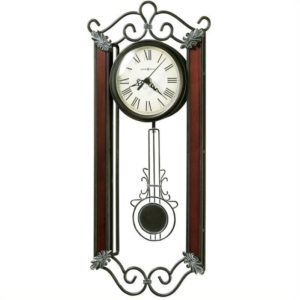 What else do we do?
We replace quartz movements (battery operated) and hands.
What we don't do at this time!
We do not service Atmos Clocks, Electric Clocks, Anniversary Clocks  and Cuckoo Clocks.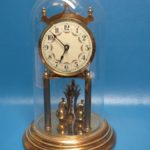 Next Steps...
Call us now to make an appointment as we are often out of the shop servicing customer's grandfather clocks. Our estimates are always free when you bring the clock to us.